Preserve your vehicle's overall value and performance with regular care and maintenance from Saul's Autotek.
Serving the Centennial State Since 1989
Vehicles require regular care and maintenance to preserve their value and performance.
Neglecting oil changes, fluid checks, tire rotations, and other essential routines can lead to more severe and costly automotive issues in the long run. So, it's best to partner with a trusted automotive service provider for all your vehicle's maintenance requirements.
Saul's Autotek is your one-stop shop for all your auto care needs. Our team of ASE-certified technicians offers comprehensive services tailored to each make and model. We have the expertise and equipment to ensure that your vehicle receives proper care and keeps running at peak performance.
With over three decades of experience servicing a wide range of vehicles, our team of experts has gained the required knowledge and skills to provide timely and reliable maintenance services. Here are the maintenance services we specialize in:
A safe and comfortable drive starts with keeping your wheels steadily and firmly intact. Our technicians perform tire rotation and wheel alignment to keep our client's vehicles running smoothly.
Routine oil changes are crucial to maintaining your engine's health. At Saul's Autotek, we only house and utilize the best motor oil brands to bring out the best in your vehicle's performance and ensure your safety on the road.
We offer complete tune-up services to keep your vehicle running at its best. Our team will check and adjust various components, including air filters, pistons, spark plugs, valves, and belts.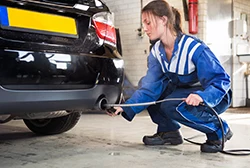 If you're experiencing problems with your vehicle's emissions system, turn to us for emissions repair. Our technicians will perform the necessary repair services.
We Offer FREE Pickup and Drop-Off!
Call us any day from 7:00 AM to 6:00 PM.

More on Electronic System Repair
Stay On Top of Your Vehicle's Maintenance Needs
Keeping up with your vehicle's maintenance requirements is an essential part of keeping it running as it should. Here's why you should start bringing your vehicle in for in-depth maintenance:
Why Choose Saul's Autotek
Since 1989, we've been trusted by a lot of vehicle owners for all their vehicle maintenance needs. Here's what sets us apart:
Extensive Experience in the Automotive Service Industry
Personalized Auto Care Solutions for a Wide Range of Vehicle Brands
State-Of-The-Art Facility for Prompt and Accurate Diagnoses and Repairs
Keep your vehicle running safely and reliably with specialized care and maintenance from Saul's Autotek.
If you have inquiries regarding our maintenance services or want to schedule an appointment, call our expert team today. We're here to provide the right auto care solutions for your vehicle.
for a Comprehensive Inspection
for Any Service Over $500